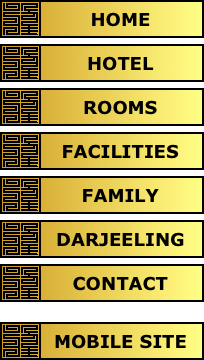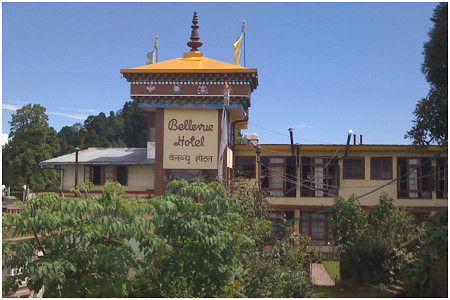 Bellevue Hotel Darjeeling - Like coming Home
The Bellevue Hotel is owned and run by the Pulgers in second generation, and in every way combines the peace and gentleness of that Tibetan family and its culture.
Well-furnished rooms are panelled throughout in warm juniper and pine, with polished wooden floors. All rooms have attached bathrooms with running hot and cold water. Log fires are available in the guest rooms in winter. A well maintained garden graces the back of the building.
This is the Bellevue Hotel mentioned in Lonely Planet, National Geographic Adventure, Let's Go, Rough Guides, Cadogan Guides, and other discriminating travel books, including those published in Japan, Korea and other countries.
The Bellevue Hotel's courteous and able staff are always willing to assist guests in all respects, including health, sightseeing, treks, tours and transport.
Our Facilities include:
Doctor, Masseur, Barber and Washerman available on call
Wood stove in every room
Cable television in every room
Coach and taxi service
Internet Café on the ground floor
Free wireless Internet-Access within the Hotel
For informations or reservations, please, contact
| | | | | |
| --- | --- | --- | --- | --- |
| Mail: | Mr. Tashi Pulger | Phone: | 0091 354 2254075 | (Office) |
| | | | 0091 98 00667148 | (Mobile) |
| | Bellevue Hotel Darjeeling | | 0091 96 14531574 | (Manager) |
| | P O Box 28, The Mall | | | |
| | Darjeeling, West Bengal 734 101 | E-Mail: | pulger@rediffmail.com | |
| | India | | tpulger@gmail.com | |
"I must have crossed the border. That's what I'm thinking right now as I take a break from reading to look out the window of my wood-lined room with fireplace and sitting area out onto the small garden where someone is sweeping up leaves from the grass. I have come and gone from this building some 15 times since checking in yesterday and I have yet to pass without seeing someone sweeping or painting. Clearly I am no longer in India ... But I am in India! In the Queen of Hill Stations, Darjeeling, at the Hotel Bellevue. Since coming down with a cold, I decided to pay four times as much for a more comfortable pad. In contrast to my $4/night place Sunday, this room is like a five-star hotel overlooking the central Chowrasta square where I could envision myself staying a week. I love this place. 48 hours and not a single person tried to con me into anything. I even asked for directions and received them!"
Brian Ghidinelli, an American traveller, on his stay at the Bellevue Hotel